List of recipes using "Pasta":
11 recipes

(lactose free)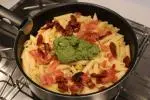 In this recipe, the pasta (whatever kind you prefer) is served with shreds of fried ham and chopped preserved tomatoes as well as a good dollop of pesto.
6,750
3.8/5 for 19 ratings 23 min.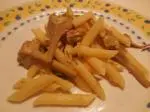 In this recipe, the purple artichokes are braised in white wine, then mixed with the penne and parmesan.
9,577
5/5 for 13 ratings 52 min.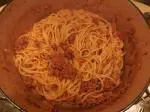 Spaghetti "bolognese" (after the town of Bologna, Italiy) is a well-known dish, but so often amounts to nothing more than pasta topped with minced meat in a plain tomato sauce. Here is a more traditional version, in which the sauce is made with tomatoes, herbs, red wine and - of course - meat.
11,844
3.8/5 for 21 ratings 1 hour 19 min.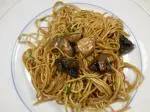 In this recipe, the mushrooms are cooked in the oven first and are then combined with the cooked spaghetti, shallots and dressed with white wine and soy sauce.
9,779
4.1/5 for 20 ratings 1 hour 3 min.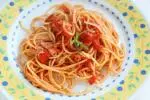 Here's a quick and simple solution when faced with the age-old question late on Sunday afternoon: "What are we going to eat tonight?".
2,970
4.8/5 for 10 ratings 28 min.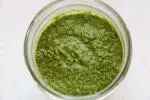 You are probably familiar with the classic pesto,made with basil and pine nuts. I'd like to tempt you with a rather different (but quite delicious) version, made with coriander and cashew nuts.
1,622 26 min.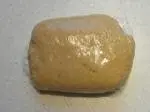 You can use this dough to make lasagne, ravioli, spaghetti, etc. - in fact, any fresh pasta you wish.
21,409
3.8/5 for 17 ratings 1 hour 13 min.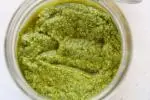 Pesto is an Italian sauce made from pine nuts, Parmesan and basil. It's very simple but quite delicious, and goes particularly well with pasta.
61,792 2
5/5 for 13 ratings 22 min.

This is a variation on the classic pesto sauce (basil and pine nuts), using cherry tomatoes, basil and almonds.
32,609
4.5/5 for 11 ratings 13 min.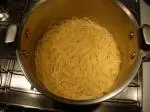 Here is some advice for pasta that's properly cooked and doesn't stick.
56,263
4.8/5 for 12 ratings 22 min.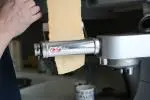 In theory, making ravioli is fairly simple: just roll out wide bands of thin fresh pasta dough and encase small pieces of pre-prepared filling between two sheets of pasta. In practice, it's a bit trickier than that and having the right equipment is important. This recipe shows you how to make...
7,632
5/5 for 1 ratings 1 hour 17 min.