List of recipes using "Galette":
3 recipes

(lactose free)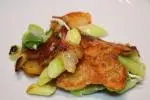 For this recipe, we make a "galette" of fried potatoes, then add layer of steamed leeks and melt cheese over the top. The galette is folded over, rather like an omelette, before being cut into portions.
6,972
4.1/5 for 20 ratings 39 min.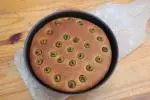 This bread with olives and pesto has a very Italian flavour: a ciabatta dough, herbes de Provence and green olives. The loaf is baked in a tin, with a thin layer of pesto spread in the middle between two pieces of dough, and green olives (with stones removed) pressed into the top.
5,949
3.8/5 for 20 ratings 3 hours 57 min.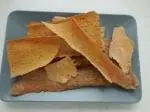 Papadums (pronounced "poppadoms") or papad are very thin, crisp Indian crackers. They are often served as an aperitif snack in Indian restaurants. The tricky part of making them at home is rolling them out thinly enough.
17,492
4.6/5 for 20 ratings 22 min.