List of recipes using "Sausage":
9 recipes

(lactose free)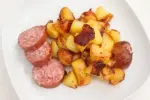 In this recipe Morteau sausage is cooked on a bed of potatoes cut into medium sized pieces. The idea of this recipe is that the pricked Morteau sausage cooks slowly, so that its smoky flavour seeps down onto the potatoes - it's a pure delight.
293,147 3
4.1/5 for 13 ratings 1 hour 31 min.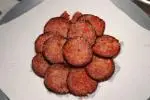 To make these "crisps", the Morteau sausage is first boiled before being sliced thinly. The slices are then baked in the oven until they start to crisp. These make a very tasty aperitif snack or can be served to accompany any dish you choose.
5,234
4.5/5 for 20 ratings 1 hour 9 min.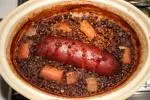 This is a casserole-style version of the traditional French sausage-and-lentils recipe with a special feature: the lentils are cooked in just the right amount of water. The other ingredients add flavour as does, most importantly, the sausage (preferably smoked). When pricked, this will release its...
6,035
4.5/5 for 15 ratings 1 hour 5 min.

If you like slow-cooked dishes prepared with loving care (mitonné), you will certainly love this hotpot recipe, with the taste of Franche-Comté, inspired by my grandmother. It's an old-fashioned dish full of flavours and aromas, cooked vegetables, stock, smoked sausages, all cooked long and slow.
71,698
5/5 for 1 ratings 4 hours 7 min.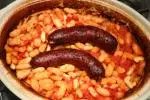 What could be more basic than sausages and beans? This is a rustic French version using dried white haricot beans (or "mogettes") that are first boiled fast, then left to cook slowly with tomatoes and smoked sausages. The long cooking allows the smoky flavour of the sausages to gradually spread down...
5,778
4.6/5 for 14 ratings 1 hour 4 min.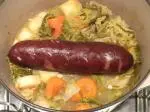 This sausage casserole is a simple mix of vegetables with smoked sausage, but the cooking liquid in this case is dry white wine (and hence the name). The casserole is cooked long and slow in the oven with a lid. This allows all the flavours of the vegetables, wine and sausage to mingle harmoniously.
4,518 2 hours 36 min.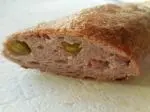 Saucipain (or sausage bread) is a kind of savoury baguette. The dough contains small dice of dry-cured sausage or salami and is mixed with red wine instead of water. Served sliced in rounds, it makes a typically French aperitif snack.
11,561
3.8/5 for 17 ratings 4 hours 26 min.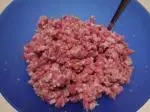 Sausagemeat is a mixture of fatty pork (belly bacon here) with leaner meat, all minced and seasoned. In this version I have used veal as the additional meat.
11,814
3.8/5 for 17 ratings 15 min.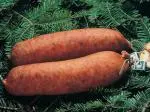 This is, in my opinion, the best smoked sausage. You can cook it in a number of ways, here are three of the best known.
58,114
4/5 for 6 ratings 40 min.