List of recipes using "Syrup":
12 recipes

(lactose free)

It's a very easy recipe, everything depends on the choice of differents kinds of pears all fully ripe, to give a delicious contrast in the mouth.
64,307
4.2/5 for 20 ratings 37 min.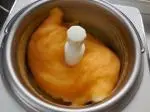 To capture the delicate flavour of clementines, we need to use not only the juice, but also a little zest to add a delicious hint of bitternes. Here's a simple method using sugar cubes.
12,811
4.3/5 for 15 ratings 2 hours 47 min.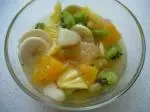 To make a good fruit salad, there are three important points: Choose fruits that go well together (avoid putting soft pears with crunchy apples for example).Remove absolutely all skins and seeds.Bring it all together with a good home made sugar syrup added to the fruit juices.Here is a recipe which...
78,763
4.1/5 for 16 ratings 1 hour 13 min.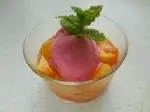 A delightful coupe combining mint-flavoured peaches with a scoop of blackcurrant sorbet.
11,644
3.8/5 for 11 ratings 55 min.

Here is a very simple, fresh and delicious recipe; the flavour of mint goes very well with peaches.
86,323 2
4/5 for 1 ratings 20 min.

For a great pear sorbet, choose your fruit carefully: they should be perfectly ripe and full of flavour. You will get good results with williams, but any other variety of your choice will work.
73,964
4/5 for 11 ratings 54 min.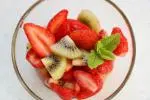 This is a simple recipe, but quite delicious. The flavours and colours of strawberries and kiwis combine to create a refreshing and colourful summer fruit salad.
1,463 17 min.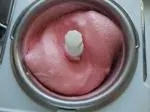 The secret of a good strawberry sorbet is to use first class strawberries, very ripe and full of flavour, so do choose them with care. This recipe shows you how to lighten the texture of the sorbet by incorporating air.
13,157
4.6/5 for 14 ratings 31 min.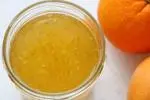 This citrus-flavoured syrup blends the bitterness of the zest with the delicious acidity of the juice. It can be used to soak biscuits or cakes when making desserts. You can make this with whatever citrus fruits you prefer. It can be prepared in advance and will keep for several days.
5,298 1 hour 13 min.

Less sweet than normal sugar syrup, poaching syrup is specially for slow cooking fruits to be used in other recipes.
80,793
5/5 for 13 ratings 14 min.

This syrup is mainly used as a basis for all sorbet recipes, which consist of this syrup and fruit pulp, but it can be also used to soak biscuits for example, or for fruit salads.
124,336
5/5 for 1 ratings 8 min.

To poach peaches, we begin rather like for tomatoes. To peel them, we boil them for a few seconds, then plunge them into cold water.Once the skin has been removed, they are poached gently in a light syrup.
60,172
3/5 for 2 ratings 1 hour 49 min.