List of recipes using "Cashew":
4 recipes

(lactose free)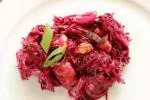 This pink — almost hot pink — salad gets its colour from the raw beetroot, teamed here with toasted cashew nuts and fried croutons.
3,475
5/5 for 1 ratings 32 min.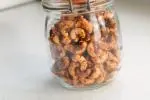 Toasting cashews greatly improves both their flavour and texture over the plain raw nuts. This is also the ideal opportunity to spice them up a little, like in this very simple recipe.
410 29 min.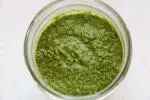 You are probably familiar with the classic pesto,made with basil and pine nuts. I'd like to tempt you with a rather different (but quite delicious) version, made with coriander and cashew nuts.
2,960 26 min.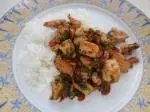 This Thai-inspired recipe combines diced chicken with cashew nuts, spring onions, herbs and a lime-soy sauce.
10,016
5/5 for 13 ratings 24 min.