List of recipes using "Cream":
9 recipes

(lactose free)

If you love the taste of blackcurrants (like Edith), this sorbet is for you...
67,463
4.9/5 for 18 ratings 23 min.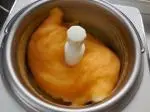 To capture the delicate flavour of clementines, we need to use not only the juice, but also a little zest to add a delicious hint of bitternes. Here's a simple method using sugar cubes.
11,064
4.3/5 for 15 ratings 2 hours 47 min.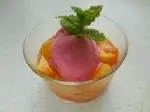 A delightful coupe combining mint-flavoured peaches with a scoop of blackcurrant sorbet.
10,300
3.8/5 for 11 ratings 55 min.

For a great pear sorbet, choose your fruit carefully: they should be perfectly ripe and full of flavour. You will get good results with williams, but any other variety of your choice will work.
71,981
4/5 for 11 ratings 54 min.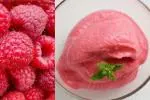 To make a seriously good raspberry sorbet, the fruit must be of the best quality, of course, but there is another little secret: you need to remove all the seeds to make a really smooth coulis. It is this smooth coulis that makes the sorbet so deliciously velvety.
4,041
4.6/5 for 15 ratings 2 hours 20 min.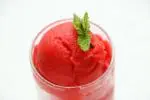 For this strawberry and mint-flavoured sorbet, we will be using an unusual method: blending the strawberries with mint leaves. This mixture is then left overnight for the flavours to mingle before being strained and then churned. This makes a delicious sorbet with its full-on strawberry flavour...
3,937
3.8/5 for 19 ratings 12 hours 26 min.

The "succès" (success) is a classic of traditional French patisserie, made with two layers of almond meringue filled with praline butter cream. It's very rich and a little old-fashioned these days, but still has many faithful fans.The original recipe comes from the master chef Gaston Lenôtre, and...
75,803 3
4.9/5 for 7 ratings 4 hours 16 min.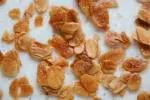 Toasted flaked almonds are the perfect finishing touch for desserts, ice creams in particular, because of their delightful crunch.
51,372
4.8/5 for 20 ratings 27 min.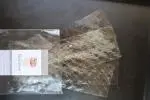 Gelatin is a gelling agent use in some desserts where a rather firm texture is required when cold. It can also be used to stabilize a dessert (mousses especially) that you need to keep longer than usual.
23,995
4.8/5 for 18 ratings 7 min.