List of recipes using "Flour":
4 recipes

(lactose free)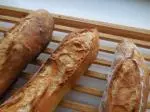 This classic of French baking is rather different from the recipe for leavened bread, it's a question of making a good crust and light crumb along the whole length. To succeed, you should know that there are two secrets: water first of all (much more than for normal bread), and the working of the...
173,736 24
5/5 for 4 ratings 5 hours 6 min.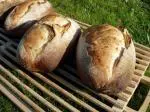 It might be harder to achieve good results than with traditional yeast bread, but what a flavour! It also keeps better.This recipe is designed for baking bread in a wood-fired oven but, of course, you can use the conventional oven in your kitchen.
206,885 2
3.9/5 for 14 ratings 6 hours 26 min.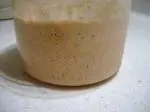 Leaven is a natural raising agent, a fermented mixture of water, flour and the microscopic yeasts which are present in the air. It's a delicate living substance, sensitive to the external environment. The recipe is around 4000 years old and dates back to the Egypt of the Pharaohs, via a beautiful...
221,151 28
4.2/5 for 32 ratings 7 days 15 min.

"Dusting" in cooking is sprinkling a very fine layer of something in powder form. Icing sugar or cocoa powder on cakes for example. As this is not very easy to do evenly, here is a way to do it.
24,177
5/5 for 1 ratings 2 min.