List of recipes using "Gratin":
4 recipes

(lactose free)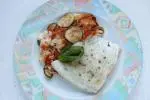 This oven-baked recipe teams layers of rice and vegetables (sesame-flavoured rice, sautéed courgettes, onions and tomatoes) with fillets of fish (pollack here) and thyme laid on top. Everything is then cooked together in the oven.
6,473
4.3/5 for 15 ratings 1 hour 7 min.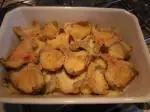 This is a very simple recipe: just potatoes, purple artichokes, a sprinkling of Parmesan and into the oven it goes...
10,064
4.1/5 for 16 ratings 42 min.

This recipe is made by briefly cooking an assortment of soft fruits (raspberries, blackcurrants, blackberries, blueberries, currants...) with a little sugar to glaze them. They are served in a small dish, covered with a delicious sabayon which can be lightly "burned" on surface.
80,814
3.9/5 for 18 ratings 46 min.

Often when making gratins, crumbles or other oven-cooked dishes, you will need to butter the dish or mould. To butter (or grease) means to rub inside the mould with a knob of butter to prevent the mixture sticking too much. Instead of putting a knob of butter in the dish and wiping with paper, here...
12,469
4.1/5 for 19 ratings 1 min.