List of recipes using "Gratin":
4 recipes

(lactose free)

List of recipes using "Gratin"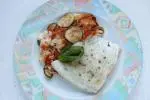 This oven-baked recipe teams layers of rice and vegetables (sesame-flavoured rice, sautéed courgettes, onions and tomatoes) with fillets of fish (pollack here) and thyme laid on top. Everything is then cooked together in the oven.
31K
4.3
1 hour 7 min. September 25
th
2016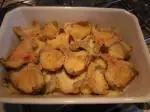 This is a very simple recipe: just potatoes, purple artichokes, a sprinkling of Parmesan and into the oven it goes...
40K
4.1
42 min. November 30
th
2014

This recipe is made by briefly cooking an assortment of soft fruits (raspberries, blackcurrants, blackberries, blueberries, currants...) with a little sugar to glaze them. They are served in a small dish, covered with a delicious sabayon which can be lightly "burned" on surface.
237K
3.9
46 min. February 21
th
2011

Often when making gratins, crumbles or other oven-cooked dishes, you will need to butter the dish or mould. To butter (or grease) means to rub inside the mould with a knob of butter to prevent the mixture sticking too much. Instead of putting a knob of butter in the dish and wiping with paper, here...
101K
4.1
1 min. February 21
th
2011