List of recipes using "Peach":
3 recipes

(lactose free)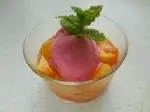 A delightful coupe combining mint-flavoured peaches with a scoop of blackcurrant sorbet.
10,464
3.8/5 for 11 ratings 55 min.

Here is a very simple, fresh and delicious recipe; the flavour of mint goes very well with peaches.
84,791 2
4/5 for 1 ratings 20 min.

To poach peaches, we begin rather like for tomatoes. To peel them, we boil them for a few seconds, then plunge them into cold water.Once the skin has been removed, they are poached gently in a light syrup.
57,486
3/5 for 2 ratings 1 hour 49 min.