List of recipes using "Red wine":
9 recipes

(lactose free)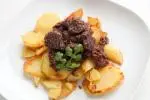 In classic recipes of this kind, the meat is simply cooked in the wine as it comes. This version is different: the red wine is reduced first separately on low heat with herbs, onion and carrot, then the meat is cooked long and slow in this. This method gives the meat a richer, more intense flavour.
5,614
3.8/5 for 17 ratings 3 hours 53 min.

Bœuf bourguignon is a traditional recipe of French cuisine (bourguignon means from Burgundy). It's chunks of meat cooked slowly with bacon, onions, carrots and mushrooms in red wine.
109,230 3
2.5/5 for 2 ratings 4 hours 20 min.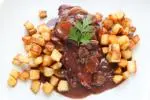 Coq au vin is one of those iconic classics of French cuisine, though these days it is more likely to be made with chicken. The poultry is marinated in red wine, fried, then flambéed in cognac before being simmered slowly in the wine marinade. It has much in common with that other classic, boeuf...
9,611
4.2/5 for 11 ratings 14 hours 44 min.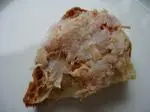 Potted meat (rillettes) is cooked long and slow in fat. Rillettes can be of pork or duck. Here is the pork version.
98,144 2
5/5 for 1 ratings 6 hours 46 min.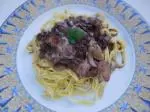 Rabbit civet is a classic dish of French cuisine. The word "civet" comes from "cive", an old word for onion. These days, the name refers to chunks of meat, marinated then cooked slowly in red wine with bacon, mushrooms and onions. This tasty stew or casserole, with its very tender meat, is like my...
14,271
4/5 for 1 ratings 15 hours 20 min.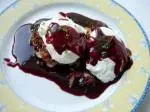 Eggs meurette or "œufs à la bourguignonne" is a great classic of French cooking, and of Burgundy in particular. It consists of poached eggs on a bed of fondue onions and bacon, served on a slice of fried bread. This is topped with a tasty reduced red wine sauce.
60,118 1
4.1/5 for 17 ratings 1 hour 11 min.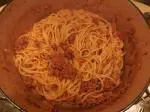 Spaghetti "bolognese" (after the town of Bologna, Italiy) is a well-known dish, but so often amounts to nothing more than pasta topped with minced meat in a plain tomato sauce. Here is a more traditional version, in which the sauce is made with tomatoes, herbs, red wine and - of course - meat.
14,165
3.8/5 for 21 ratings 1 hour 19 min.

Parmentier is a French version of shepherd's pie. This variation has slow-cooked meat on top of the mashed potato (purée), instead of underneath. A red-wine sauce adds the finishing touch.
31,658
4.2/5 for 12 ratings 6 hours 7 min.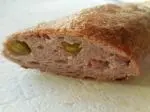 Saucipain (or sausage bread) is a kind of savoury baguette. The dough contains small dice of dry-cured sausage or salami and is mixed with red wine instead of water. Served sliced in rounds, it makes a typically French aperitif snack.
11,959
3.8/5 for 17 ratings 4 hours 26 min.