List of recipes using "Small bread":
2 recipes

(lactose free)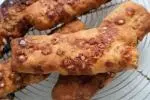 This curious name (explained below) applies to a small bread fingers made with a blend of wheat and rye flour, enriched with raisins and almonds.
4,505 4 hours 32 min.

When you are have mastered the basic leavened bread, you certainly ought to try special breads: with nuts, cheese, seeds, etc... Here is a series of recipes, based on traditional leavened bread.
79,194
4/5 for 20 ratings 6 hours 26 min.