List of recipes using "Tuna":
10 recipes

(lactose free)

List of recipes using "Tuna"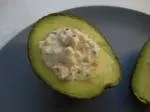 Here is a quick recipe for a simple starter: avocado, tuna, chopped herbs and mayonnaise.
60K
5
12 min. April 29
th
2015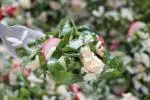 Spinach is usually eaten cooked. Though seen less often, it can also be eaten raw, like in this salad where it is combined with rice, crunchy radishes and tinned tuna.
19K
27 min. January 29
th
2020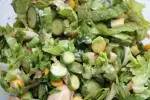 This salad is a way to make the most of the first baby courgettes (if you can get them). The crunchy little darlings are mixed with shredded lettuce, hard-boiled eggs, tinned tuna and diced cheese.
39K
25 min. June 5
th
2019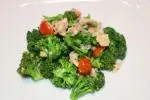 In this recipe, the broccoli is served only just cooked and still warm with tuna, chopped shallot and cherry tomatoes in a good vinaigrette dressing.
42K
4
22 min. March 3
rd
2016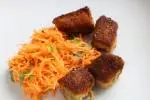 In this recipe chunky cubes of fresh tuna are marinated, then double-dipped to coat them before cooking: first in curry spices, then breadcrumbs. The cubes of fish are pan-fried to a crispy coating on the outside but stay tender in the middle.
44K
4.9
2 hours 40 min. June 22
th
2016

Here is a very simple recipe, preferably for a barbecue or plancha, but could be made in the kitchen. As for any summer-barbecue-backyard recipe, all proportons can be varied according to taste.
242K
4.3
1 hour 22 min. February 21
th
2011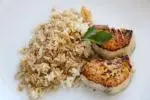 This is a very simple way to prepare and cook tuna - a fish that tends to dry out very quickly if you are not careful about how you cook it. In this recipe the tuna medallions are marinated in a mixture of olive oil, lemon and lime, before being seared briefly on both sides. Serve with rice cooked...
30K
4.8
2 hours 18 min. July 23
th
2017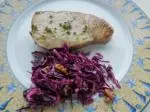 Cooking tuna can be tricky: undercooked it is unappetising, overcooked it dries out rapidly. Here is a method which guarantees that your tuna will be perfectly cooked and tender.
120K
4.7
49 min. March 26
th
2014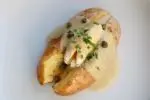 You will no doubt have baked potatoes the classic way, but here's a version inspired by Yotam Ottolenghi, served with a delicious tuna and caper sauce, and a poached egg.
15K
1 hour 16 min. September 27
th
2020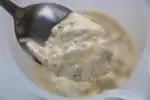 Gribouille dressing is based on a rémoulade dressing, with shallot, herbs, hard-boiled egg and tuna added. It goes well with fish and vegetables of all kinds and makes a great sandwich filling.
11K
18 min. February 17
th
2021