List of recipes using "Zucchini":
4 recipes

(lactose free)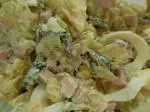 In this version of Piedmont salad, the usual tomato has been replaced by raw courgette.
12,607
3.9/5 for 19 ratings 33 min.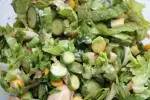 This salad is a way to make the most of the first baby courgettes (if you can get them). The crunchy little darlings are mixed with shredded lettuce, hard-boiled eggs, tinned tuna and diced cheese.
1,581 25 min.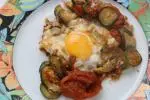 Melting courgettes with tomatoes and onions into which the eggs are slid carefully, without breaking the yolk, and cooked gently. The secret of success in this recipe is to combine the tomatoes and courgettes when they are really soft, and cook the egg white, leaving the yolk still runny.
8,467
3.8/5 for 12 ratings 52 min.

Preparing courgettes is fairly simple. You just need to remember 3 things: 1) the bigger they are, the less good they will be, 2) they never need to be peeled, and 3) the central part with the seeds is pretty tasteless.
23,150 1
3.8/5 for 19 ratings 29 min.