List of recipes using "Rum":
6 recipes

(lactose free)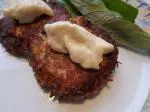 These crab cakes are a mixture of crab meat - of course - with onion, parsley, breadcrumbs, egg and mayonnaise. The cakes are made fairly thick and shallow fried in a pan, but they can also be deep fried.
10,920
4.7/5 for 18 ratings 1 hour 3 min.

Small pieces of fish, dipped in beated egg then in breadcrumbs, and fried. Preferably serve with something with slightly acidic like herb salad, or Béarnaise sauce.
67,713
5/5 for 13 ratings 49 min.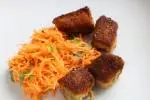 In this recipe chunky cubes of fresh tuna are marinated, then double-dipped to coat them before cooking: first in curry spices, then breadcrumbs. The cubes of fish are pan-fried to a crispy coating on the outside but stay tender in the middle.
8,328
4.9/5 for 14 ratings 2 hours 40 min.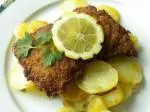 A Wiener schnitzel is a thin veal cutlet (escalope) coated in breadcrumbs.
28,812
4.1/5 for 16 ratings 1 hour 20 min.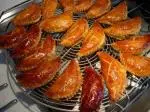 These are small apple turnovers ("chaussons") of puff pastry, filled with a mixture of caramelised almonds, stewed apple and rum-soaked raisins. To be eaten just as they are...
78,415
3.8/5 for 17 ratings 1 hour 31 min.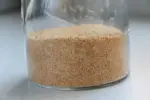 The crispy crust on many fried (or baked) foods comes from a breadcrumb coating. You can buy this, of course, but it's easy and much better to make your own at home. For one thing, you will know excatly what's in it – just bread – which is not the case for the commercial product. This is also a...
2,574
1/5 for 1 ratings 1 hour 7 min.