List of recipes using "Veal":
2 recipes

(lactose free)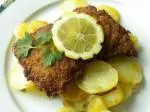 A Wiener schnitzel is a thin veal cutlet (escalope) coated in breadcrumbs.
27,655
4.1/5 for 16 ratings 1 hour 20 min.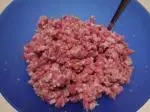 Sausagemeat is a mixture of fatty pork (belly bacon here) with leaner meat, all minced and seasoned. In this version I have used veal as the additional meat.
10,174
3.8/5 for 17 ratings 15 min.