List of recipes using "Mint":
7 recipes

(gluten free)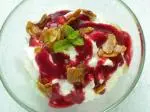 A "coupe Augustin" is a kind of sundae made with mint ice cream, slices of white peach poached in a light syrup, Chantilly cream, raspberry coulis and topped with toasted flaked almonds.
19,105
4.7/5 for 11 ratings 28 min.

This well-flavoured ice-cream is excellent on its own, or in profiteroles with a chocolate sauce for example.
82,363
4.6/5 for 14 ratings 1 hour 34 min.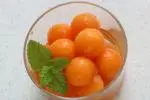 It is tempting to call this a melon Mojito: little balls of ripe melon in a light Mojito-flavoured syrup with mint, rum and lime.
9,068
4.5/5 for 11 ratings 45 min.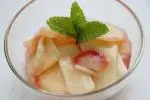 A simple fruit salad of white peaches bathed in mojito flavours: lime, rum and mint (with a delicate hint of vanilla).
860 39 min.

Here is a very simple, fresh and delicious recipe; the flavour of mint goes very well with peaches.
86,075 2
4/5 for 1 ratings 20 min.

Minty confectioner's custard, diced strawberries and whipped cream.
77,113
5/5 for 13 ratings 1 hour 30 min.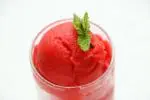 For this strawberry and mint-flavoured sorbet, we will be using an unusual method: blending the strawberries with mint leaves. This mixture is then left overnight for the flavours to mingle before being strained and then churned. This makes a delicious sorbet with its full-on strawberry flavour...
5,283
3.8/5 for 19 ratings 12 hours 26 min.