List of recipes using "Fried":
6 recipes

(gluten free)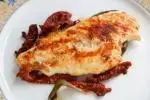 Chicken breasts pan-fried with sage leaves, topped with thinly sliced mozzarella and preserved tomatoes, then served turned over on a bed of the "toppings".
10,471
4.1/5 for 17 ratings 23 min.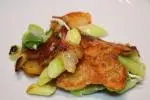 For this recipe, we make a "galette" of fried potatoes, then add layer of steamed leeks and melt cheese over the top. The galette is folded over, rather like an omelette, before being cut into portions.
6,535
4.1/5 for 20 ratings 39 min.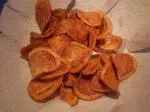 Making your own potato crisps (or chips, if you are American) is quite easy. All you need to do is slice potatoes and fry them. That is all well and good in principle, but there are a few tips it is important to know. I'll explain them for you in this recipe.
15,261
3.9/5 for 12 ratings 26 min.

Potatoes fried in a little goose fat, with a mixture of chopped parsley, garlic and shallot added just before serving. Greedy folks (like me) melt a few thin slices of foie gras over the top.
61,628
4.6/5 for 14 ratings 1 hour 25 min.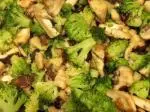 Blanched broccoli sautéed quickly with thin slices of fried chicken.
22,809
4.5/5 for 19 ratings 1 hour 4 min.

What could be simpler than fried potatoes? No need of a recipe for that! Quite right, but it's also very easy to end up making fried mash instead. Here are the main pitfalls to avoid.
64,604
4.4/5 for 19 ratings 1 hour 37 min.