List of recipes using "Pistachio":
8 recipes

(gluten free)

List of recipes using "Pistachio"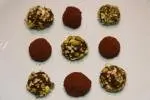 Chocolate truffles: those dreamy, creamy chocolatey treats, rolled in cocoa powder or a mix of chopped dry-roasted pistachios and almonds.
36K
5
2 hours 54 min. January 6
th
2016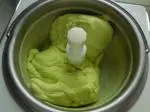 Rediscover the real, delicate taste of pistachio in this ice cream with its very definite flavour.
73K
1
3.8
51 min. October 1
st
2014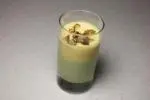 In this dessert, the pistachio panna cotta is teamed with real vanilla custard and topped with a few caramelised pistachios.
23K
2
5
3 hours 12 min. February 18
th
2018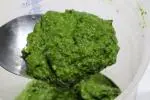 You are no doubt familiar with classic pesto, made with basil and pine nuts. Here's a winter version with spinach and pistachios that's just as delicious.
3,745
34 min. January 16
th
2022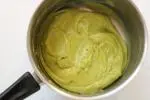 This is very similar to the classic confectioner's custard (crème pâtissière, or french pastry cream), but its marked pistachio taste brings a distinctive flavour to a whole range of desserts.
115K
4.7
31 min. November 21
th
2018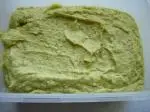 Very similar to almond cream, pistachio cream is ideal for filling or topping all kinds of cakes and tarts. Just like almond cream, it swells during cooking.
248K
6
4.1
33 min. October 4
th
2012

Pistachio paste has a similar texture to almond paste, but the similarity ends there, as its flavour and colour are quite characteristic.
305K
15
3.8
48 min. October 13
th
2010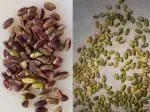 If you buy pistachios shelled but still in their skins (cheaper than ready peeled), you shouldn't use them like this. They need to be "skinned", removing the skin which is pretty unpleasant to eat. Here's a fairly easy way to do it.
49K
3.3
28 min. May 20
th
2020