List of recipes using "Onions":
4 recipes

(gluten free)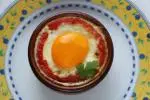 This is a novel way of cooking eggs: in tomato "shells" or egg-cups! For extra flavour, we'll put a spoonful of caramelized onions in the tomato first.
7,486
3.9/5 for 12 ratings 1 hour 3 min.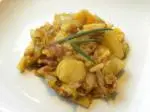 A one-pot endive dish with potatoes, onion and bacon. [Translator's note: the French "bonne femme" style is good, straightforward home cooking (whether the cook is a man or a woman!).
26,072
4.3/5 for 19 ratings 1 hour 23 min.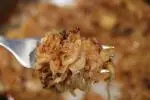 Onion fondue is a delicious classic of French cuisine: finely-sliced onions, cooked long and slow until they are melting and caramelized. This can be used in many other recipes.
1,520 50 min.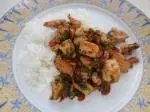 This Thai-inspired recipe combines diced chicken with cashew nuts, spring onions, herbs and a lime-soy sauce.
10,016
5/5 for 13 ratings 24 min.