List of recipes using "Blackcurrant":
8 recipes

(gluten free)

If you love the taste of blackcurrants (like Edith), this sorbet is for you...
68,123
4.9/5 for 18 ratings 23 min.

Vanilla-lime, confectioner's custard and blackcurrant coulis, topped with a layer of whipped cream (chantilly) and dusted with a little matcha green tea powder. Light and flavoursome.
57,111
4.9/5 for 19 ratings 1 hour 9 min.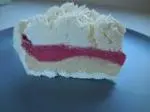 Ice-cream vacherin is a festive French dessert. It consists of two different flavours of ice cream (blackcurrant and vanilla here) sandwiched between two circles of meringue, topped with whorls of Chantilly (whipped cream) which is then frozen. It is not too complicated, but involves a bit of work...
14,580
4.5/5 for 12 ratings 8 hours 45 min.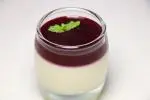 These light and flavoursome lemon creams are "set" by the curdling action of the lemon juice on the heated cream, so no thickening agent is needed. They are served in individual glasses, topped with a layer of fruit coulis (blackcurrant here).
3,952
4.1/5 for 16 ratings 41 min.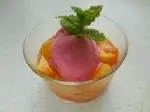 A delightful coupe combining mint-flavoured peaches with a scoop of blackcurrant sorbet.
10,670
3.8/5 for 11 ratings 55 min.

Pears cooked until soft in a red wine and blackcurrant syrup, served with the reduced syrup and custard sauce (crème anglaise).
81,261
4.1/5 for 16 ratings 2 hours 35 min.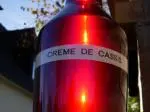 The fruit liqueurs (or "creams" in French) are a mix of neutral alcohol in which fruits are macerated, and sugar syrup. They are the basis of the very famous "Kir", mixture of dry white wine and blackcurrant liqueur. This recipe is for blackcurrant, but it can be made with other soft fruits like...
126,816 4
4.7/5 for 3 ratings 51 min.

Blackcurrants make a very good coulis, but it's a bit more difficult than with other fruits. Here is a simple method to help you succeed.
100,440 2
3.5/5 for 2 ratings 25 min.