List of recipes using "Clafoutis":
3 recipes

(gluten free)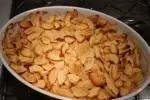 Imagine a gratin, but sweet, made with apples and toasted ground almonds. This delicious dessert combines apples and almonds with a vanilla custard-like mixture - simply yummy!
5,615
4.6/5 for 14 ratings 1 hour 5 min.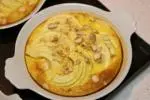 Similar to a traditional French "clafoutis", usually made with cherries, this simple apple and almond dessert is quick to make.
8,237
5/5 for 13 ratings 41 min.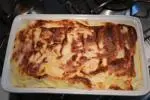 This "Marie-Antoinette" clafoutis is a lighter version of the traditional fruit-in-batter baked dessert, almost a soufflé, with apples and lemon. The apples are sautéed in butter and Calvados, then combined with a lemon-flavoured confectioner's custard, lightened with raw meringue. This mixture is...
4,410
4.9/5 for 21 ratings 1 hour 17 min.