List of recipes using "Pasta":
4 recipes

(gluten free)

List of recipes using "Pasta"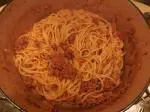 Spaghetti "bolognese" (after the town of Bologna, Italiy) is a well-known dish, but so often amounts to nothing more than pasta topped with minced meat in a plain tomato sauce. Here is a more traditional version, in which the sauce is made with tomatoes, herbs, red wine and - of course - meat.
74K
3.8
1 hour 19 min. November 16
th
2014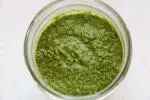 You are probably familiar with the classic pesto,made with basil and pine nuts. I'd like to tempt you with a rather different (but quite delicious) version, made with coriander and cashew nuts.
34K
26 min. December 9
th
2018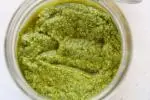 Pesto is an Italian sauce made from pine nuts, Parmesan and basil. It's very simple but quite delicious, and goes particularly well with pasta.
223K
2
5
15 min. July 25
th
2020

This is a variation on the classic pesto sauce (basil and pine nuts), using cherry tomatoes, basil and almonds.
141K
4.5
13 min. June 29
th
2011