List of recipes using "Pasta":
4 recipes

(gluten free)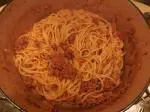 Spaghetti "bolognese" (after the town of Bologna, Italiy) is a well-known dish, but so often amounts to nothing more than pasta topped with minced meat in a plain tomato sauce. Here is a more traditional version, in which the sauce is made with tomatoes, herbs, red wine and - of course - meat.
12,854
3.8/5 for 21 ratings 1 hour 19 min.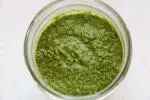 You are probably familiar with the classic pesto,made with basil and pine nuts. I'd like to tempt you with a rather different (but quite delicious) version, made with coriander and cashew nuts.
2,519 26 min.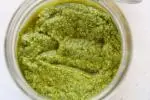 Pesto is an Italian sauce made from pine nuts, Parmesan and basil. It's very simple but quite delicious, and goes particularly well with pasta.
63,844 2
5/5 for 13 ratings 15 min.

This is a variation on the classic pesto sauce (basil and pine nuts), using cherry tomatoes, basil and almonds.
33,529
4.5/5 for 11 ratings 13 min.