List of recipes using "Rice pudding":
2 recipes

(gluten free)

We start with a classic rice pudding and add beaten eggs, this is poured onto hot caramel in the bottom of a dish, and then cooked in a bain-marie in the oven until firm like a cake.
68,549
5/5 for 13 ratings 1 hour 37 min.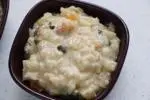 This is cooked like a normal rice pudding, but with fruit and nuts added halfway through: toasted almonds and pistachios, sautéed diced apple and strips of dried apricot. These added flavours and textures make an already creamy rice pudding even more delicious.
4,133
4.6/5 for 14 ratings 1 hour 5 min.