List of recipes using "Roll":
7 recipes

(gluten free)

List of recipes using "Roll"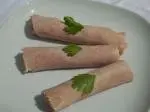 Ham "à la Russe" is a slice of cooked ham rolled up around a macédoine of vegetables in mayonnaise.
71K
4.3
8 min. September 10
th
2014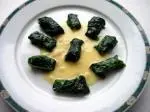 These parcels are made with small pieces of fish fillet, wrapped in a blanched spinach leaf and lightly fried in butter. They can be served with a salted white wine sabayon (as in the recipe of scallops with crunchy vegetables), a beurre blanc, a dash of olive oil with herbs, or any other sauce of...
218K
5
2 hours 23 min. March 18
th
2013

Pieces of white fish rolled in thinly sliced smoked ham. These rolls are cooked in a little olive oil and served with French beans. The pairing of smoked ham with fish might seem a little strange, but in fact these flavours marry well.
284K
4.9
54 min. February 21
th
2011

For this dish only the green part of the chard is used. The blanched leaves are rolled around grilled salmon portions. The rolls are served coated with a savoury lemon sabayon, or the sauce of your choice.
149K
3.8
1 hour 21 min. August 8
th
2010

Tenderloin of pork stuffed with mustard and parsley, then wrapped in thin slices of bacon and oven roasted.
200K
1
4.6
1 hour 28 min. November 3
rd
2011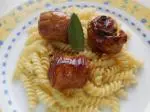 Saltimbocca literally means "jumps into the mouth" in Italian. These delicious little meat rolls, made with veal, ham and sage, will do just that!
51K
4.9
40 min. July 20
th
2015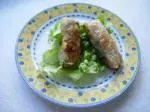 Nems are probably the best known Far Eastern dish in France. These small crispy rolls can be made in different flavours: chicken, crab, pork, etc. Making your own is not very complicated, the only difficulty is in the rolling stage. You will find in this recipe full details on how to successfully...
470K
3.8
2 hours 21 min. April 6
th
2017