List of recipes using "Flour":
3 recipes

(gluten free)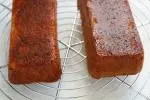 This gluten-free cake is called "amandier" in French, as it is made with ground almonds instead of flour (the same word also means almond tree). The texture is moist and the flavour is, well, almondy.
753 1 hour 8 min.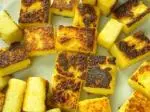 Polenta is made from maize meal and can be prepared in a number of ways. In this recipe, it is cooked in milk, then moulded and set before being fried.
20,594
5/5 for 13 ratings 1 hour 34 min.

"Dusting" in cooking is sprinkling a very fine layer of something in powder form. Icing sugar or cocoa powder on cakes for example. As this is not very easy to do evenly, here is a way to do it.
24,183
5/5 for 1 ratings 2 min.