List of recipes using "Pesto":
4 recipes

(gluten free)

List of recipes using "Pesto"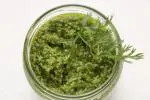 You will no doubt be familiar with classic pesto. Here is an alternative, zero-waste version using carrot tops for a surprising pesto, full of fresh flavour.
13K
16 min. September 16
th
2020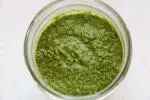 You are probably familiar with the classic pesto,made with basil and pine nuts. I'd like to tempt you with a rather different (but quite delicious) version, made with coriander and cashew nuts.
24K
26 min. December 9
th
2018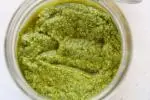 Pesto is an Italian sauce made from pine nuts, Parmesan and basil. It's very simple but quite delicious, and goes particularly well with pasta.
207K
2
5
15 min. July 25
th
2020

This is a variation on the classic pesto sauce (basil and pine nuts), using cherry tomatoes, basil and almonds.
135K
4.5
13 min. June 29
th
2011