List of recipes using "Seeds":
4 recipes

(gluten free)

List of recipes using "Seeds"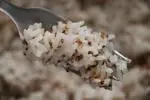 Sesame rice is a simple recipe: once cooked, the rice is dressed with a drizzle of sesame oil, then mixed with toasted sesame seeds. This delicious double sesame flavour makes it an ideal accompaniment for meat or fish.
7,093
19 min. November 17
th
2021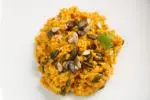 A colourful and tasty risotto made with turmeric, and pumpkin and sunflower seeds.
41K
56 min. May 19
th
2019

Yes, I know you will say to me: why peel tomatoes? The answer is very simple: it's much better, gives a better texture, softer in the mouth. The skin is tough, adds nothing to the taste (and you will have noticed that commercial tomatoes have practically no taste), and finally it's there (on/under...
294K
2
4
40 min. June 6
th
2012

Vanilla pods are used in many recipes, but they need to treated in a particular way to be effective, detailed here.
329K
4.3
34 min. February 21
th
2011