List of recipes using "Custard cream":
3 recipes

(gluten free)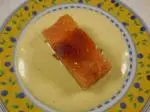 Imagine a sweet terrine, made of layers of apples with sugar, cooked slowly in the oven until caramelized. Serve warm in slices with custard.
12,422
4.1/5 for 19 ratings 3 hours 28 min.

Cold grapefruit quarters with slices of hot caramelized pineapple, lime custard (crème anglaise) and citrus crunch.
94,523
4.6/5 for 14 ratings 2 hours 5 min.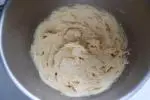 Light and delicious, it is used in a lot of desserts like tarts, cakes and pies (epiphany galette).
83,545 2
5/5 for 12 ratings 23 min.