List of recipes using "Feta":
5 recipes

(gluten free)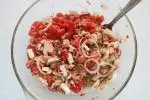 A hint of Crete in the flavours of this salad, with a mix of crunchy and soft textures: diced tomatoes, sliced spring onions, feta and tuna.
2,909 49 min.

This is a classy version of that perfect summer food, Greek salad. The only difficult part is the care and patience needed for dicing the vegetables.
54,037 1
4.9/5 for 12 ratings 57 min.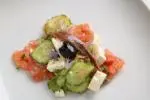 The port of Souda in Crete is the inspiration for this colourful salad, combining cucumber and tomatoes with feta cheese. This salad is best served cold from the fridge, perfect for a hot summer's day.
1,674 58 min.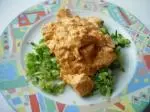 Cooked chopped leek and shallot with cubes of salmon, served in a yogurt, tomato and feta sauce.
49,027
5/5 for 13 ratings 1 hour 1 min.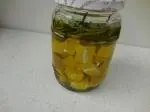 This recipe tells you how to preserve cubes of feta with herbs. It will keep for a long time and improves with keeping. Using this feta in a salad, such as Greek salad, adds an amazing flavour.
11,908
4.6/5 for 14 ratings 14 min.