List of recipes using "Poached egg":
2 recipes

(gluten free)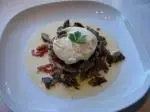 This recipe is not very complicated, but does involve some work: an artichoke heart with a layer of mushroom duxelle, a layer of fried bacon, topped with a poached egg and cream sauce. Everything can be prepared in advance (the day before for example), but the final assembly should be done just...
77,268
5/5 for 1 ratings 2 hours 11 min.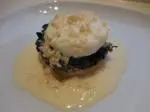 A "cake" of fried polenta, blanched spinach and a soft-poached egg on top, with a cream, shallot and white-wine sauce poured over just before serving.
9,139
5/5 for 1 ratings 1 hour 11 min.