List of recipes using "Creamy sauce":
8 recipes

(gluten free)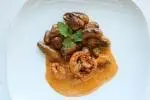 The langoustines in this recipe are cooked in two stages: boiled briefly in salted water, then sautéed before being spiced and flambéed in cognac. They are served here with a creamy sauce and potato grenaille.
5,649
5/5 for 13 ratings 1 hour 9 min.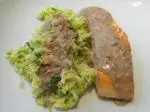 In this recipe a salmon steak is accompanied with blanched white cabbage and a rich sherry vinegar sauce.
25,636
4.5/5 for 11 ratings 1 hour 2 min.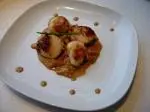 The chanterelles are fried first briefly, then the scallops fried in the same pan. The pan is deglazed with Noilly to make a delicious cream sauce.
78,186
4/5 for 1 ratings 1 hour 6 min.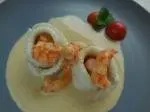 The turban is made from a rolled fillet of sole poached in fish stock. Each turban is then filled with sautéed langoustines and a tasty cream sauce, flavoured with langoustine stock. This dish takes quite a long time to make because of the langoustine stock, but you will really impress your guests.
14,325
4.1/5 for 18 ratings 1 hour 44 min.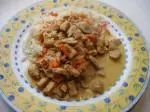 Blanquette is a classic dish of French family cooking, but can also be found in bistros. Veal is cooked slowly, and the sauce is thickened with a mixture of egg yolks and cream. I have set out a rather special way of making it.
82,749
4.4/5 for 10 ratings 2 hours 49 min.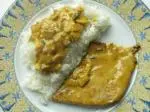 Escalopes of veal, mushrooms and a cream sauce.
50,606
4.5/5 for 15 ratings 1 hour 3 min.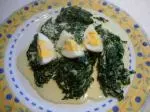 Fresh spinach, simply wilted, reheated in a sauce of thickened cream with shallot, and served with quarters of hard-boiled egg.
66,577
3.8/5 for 17 ratings 1 hour 43 min.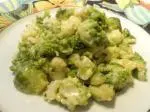 Four kinds of brassicas (Brussels sprouts, cauliflower, romanesco and broccoli), blanched separately, then combined to finish with cream and chopped parsley.
34,177
4.6/5 for 14 ratings 2 hours 41 min.