List of recipes using "Brittany":
11 recipes

(gluten free)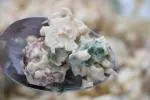 This Roscoff salad, named after the pretty little town on the Brittany coast, is a delicious mix of regional ingredients: sliced cauliflower, smoked sausages and, of course, onions.
1,704 2 32 min.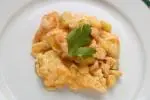 For this dish, the langoustines and asparagus tips are sautéed bafore being mixed with the beaten eggs and finished like scrambled eggs.
1,709 50 min.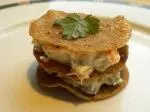 Little savoury "millefeuilles" with a very Breton taste of the sea: a mix of crab and salmon in a herb mayonnaise, piled up between crisp circles of buckwheat pancake.
24,769
5/5 for 10 ratings 48 min.

Of uniquely Breton origin, this is a buckwheat pancake on which you cook an egg with ham and cheese before folding it over. Easy and quick to make, it's an ideal answer to the question "what are we going to eat this evening?".
63,076 2
3.9/5 for 20 ratings 16 min.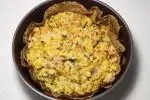 This is a "tart" with a difference: the case is not made with pastry, but with a double layer of lightly buttered Breton galettes (buckwheat pancakes). The filling is made with shallots, sautéed mushrooms, leeks and cream. You might have noticed that this recipe includes the key elements of...
4,132
4.3/5 for 12 ratings 1 hour 13 min.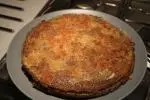 This unusual pie from Brittany is made with piled-up layers of buckwheat pancakes (galettes), sandwiched with a filling of onion and bacon mixed with a little cream. The whole thing, assembled in a baking tin, is then browned in the oven.
9,006
4.1/5 for 16 ratings 1 hour 9 min.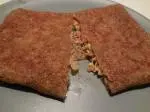 The filling is prepared by frying ham and mushrooms with chopped shallot and a drizzle of lemon juice. The pancakes used here are Breton-style buckwheat "galettes" (often sold ready made in France), folded over the filling in the pan before serving.
9,224
4.6/5 for 14 ratings 45 min.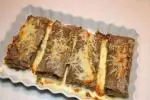 This recipe uses pan-fried mushrooms and shallots in cream as the filling for Breton "galettes": traditional buckwheat pancakes. The stuffed pancakes are then baked gratin-style with cheese and cream.
6,636
4.6/5 for 14 ratings 55 min.

This sausage pancake recipe is one of the better-known ways of using buckwheat pancakes. You will find it on the menu of all good French crêperies, but it is easy to make at home.
26,267
4.5/5 for 12 ratings 1 hour 27 min.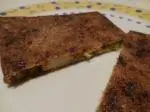 These pancakes are filled with pan-fried scallops and creamed leeks.
11,060
4.3/5 for 20 ratings 13 min.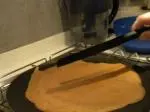 Buckwheat pancakes (galettes de sarasin in French) are typical of Brittany and are often served as a savoury dish. They are made with buckwheat flour (a cereal-like seed which is gluten free).
27,555 2
4.3/5 for 15 ratings 15 min.