List of recipes using "Parsley":
5 recipes

(gluten free)

This is the most classic way of preparing mussels, simple and delicious.
39,269
5/5 for 1 ratings 1 hour 4 min.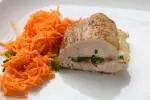 This filet mignon of pork is split, rather like an involtini, and stuffed with grilled bacon, parsley and cheese.
8,708
3.8/5 for 17 ratings 52 min.

Involtinis are small rolls of meat, usually veal, and cheese. Here is my version.
81,339
4.4/5 for 11 ratings 2 hours 51 min.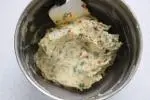 Beurre d'escargot is the typically French flavoured butter added to snails before they go into the oven. In principal, this a simple mixture of butter, chopped parsley and garlic, but here is a more sophisticated gastronomic version with a flavour that simply oozes French savoir-faire.
3,200
4/5 for 1 ratings 51 min.

This sauce, with a great parsley taste, is perfect with steamed vegetables or fish. At the bottom you will find the coulis version of this recipe.
74,277 4
4.3/5 for 4 ratings 23 min.