List of recipes using "English":
5 recipes

(without meat)

Variation on muffins recipe. In this version each one is filled with a dark chocolate ganache.
78,230
4.3/5 for 15 ratings 1 hour 15 min.

Behind this strange name there lurks a delicious traditional English dessert made of meringues, strawberries and cream.
54,428
5/5 for 13 ratings 4 hours 55 min.

Delicious when still warm.
77,162
5/5 for 1 ratings 43 min.

Lime curd is a delicious conserve and variation on the traditional lemon curd, made with limes, eggs and butter. It's the perfect filling for either large or small tarts.
40,886
5/5 for 12 ratings 54 min.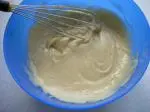 This dough can be used to make this delicious and classic of the English cooking: muffins. It can be sweet, in different flavours, with fruit, but also savoury in other recipes.
97,064
5/5 for 2 ratings 21 min.