List of recipes using "Rillettes":
3 recipes

(without meat)

List of recipes using "Rillettes"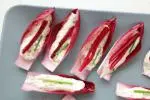 Red endive (radicchio) leaves can be filled to make very elegant snacks. The filling shown here combines cheese with sardines.
23K
20 min. May 13
th
2020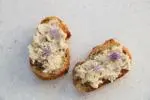 This recipe for mackerel rillettes (or potted mackerel) starts with poaching the fish. The flesh is then taken off the bones and forked into a seasoned mixture of butter, mustard, cream and lemon juice. In France this is traditionally eaten as an aperitif snack, served on small slices of toast.
26K
1 hour June 19
th
2019

Quick to make, delicious as an aperitif.
175K
5
17 min. February 21
th
2011