List of recipes using "Trick":
4 recipes

(without meat)

It is not so easy to choose a good avocado, tasty and well ripe. Here are some tips to help you.
12,789
4.8/5 for 11 ratings 1 min.

When you cook meat, the cooking heat causes the juices to run back inside, so the outside dries up somewhat. Here is a tip to avoid this.
14,661
4.3/5 for 15 ratings 5 min.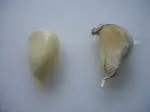 Here are, in a video, how to from a head of garlic to clove ready to be used.
10,470 2
4.3/5 for 15 ratings 5 min.

If you put cooking parchment on a baking sheet, you will find it slides all over the place, which is annoying.
9,537
4.5/5 for 19 ratings 3 min.