List of recipes using "Spaghetti":
4 recipes

(without meat)

Mussels and pasta cooked separately, then combined in a cream sauce made with the reduced mussel juices.
42,753
4.1/5 for 16 ratings 1 hour 40 min.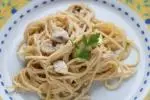 Your choice of pasta (spaghetti, penne or whatever) in a creamy sauce with mushrooms and shallots.
7,273
4.3/5 for 15 ratings 37 min.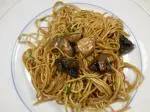 In this recipe, the mushrooms are cooked in the oven first and are then combined with the cooked spaghetti, shallots and dressed with white wine and soy sauce.
11,147
4.1/5 for 20 ratings 1 hour 3 min.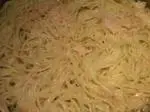 After cooking the spaghetti as usual, strips of smoked salmon are added with cream, lemon, Parmesan and egg yolks.
64,366
3.8/5 for 12 ratings 37 min.