List of recipes using "Franche-comté":
9 recipes

(without meat)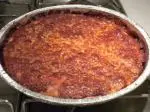 This is a very simple recipe for a "Pontarlier" style cheese tart that allows you to prepare a number at the same time. They freeze very well, so you can easily stock up for later.
21,467
4.2/5 for 10 ratings 5 hours 10 min.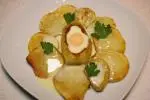 In this recipe from eastern France, an egg yolk sits inside a potato nest with a topping of hot cancoillote cheese. The nest is served with fried sliced potatoes.
7,070
3.8/5 for 19 ratings 40 min.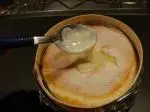 This recipe is a great classic from Franche-Comté (area of eastern France). A Mont-dor cheese (from this area) is oven cooked in its wooden box with a little dry white wine, and served melted over baked potatoes. It's a dish for a winter evening meal with friends, very easy to prepare, everything...
66,280
4.3/5 for 15 ratings 58 min.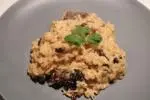 This is a rather special risotto recipe with Morel mushrooms, cooked with Jura Vin Jaune wine, and with Mont d'Or cheese added just before serving to make it extra creamy. With the trio of morels, Vin Jaune and Mont d'Or, this is an ideal way to bring together the delicious flavours of the...
5,797
3.8/5 for 12 ratings 1 hour 53 min.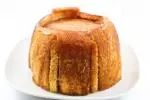 This "Comtoise" charlotte, inspired by the Franche-Comté region of eastern France, is a more rustic take on the famous dessert. It is made with sliced bread, lightly buttered and fried, then filled with sugared apple pieces, drizzled with clarified butter and baked.
1,664 1 hour 32 min.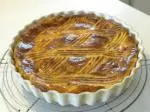 This galette is a classic Comtois dessert that resembles choux pastry (pâte à choux).
22,472
4/5 for 20 ratings 46 min.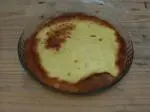 A traditional recipe from Franche-comté, it's a flat round kind of brioche, covered with an egg cream called "Goumeau".
83,448 2
5/5 for 13 ratings 3 hours 59 min.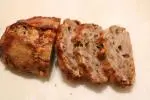 This speciality bread is full of all the character of the Jura: dry white wine (made with Savagnin grapes, of course), diced Comté cheese and toasted walnuts."Jurassic bread" was is first name... The loaves can be made long, as shown here, or as small rolls. This is ideal as an aperitif snack,...
5,206
4.4/5 for 12 ratings 6 hours 9 min.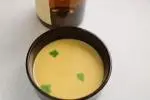 This sauce made with Vin Jaune ("yellow wine") is emblematic of Comtoise cuisine from Eastern France. It combines the smoothness of cream with the slight acidity and typical flavour of the Vin Jaune. The tricky aspect of cooking with Vin Jaune is that its fugitive flavour tends to disappear when...
5,421 46 min.