List of recipes using "Parmesan cheese":
7 recipes

(without meat)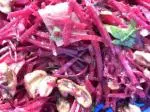 This is a very simple salad. It contains raw beetroot (of course), but also walnuts, parmesan shavings and a vinaigrette made with balsamic vinegar.
39,175
4.1/5 for 16 ratings 31 min.

A savoury shortcrust pastry with Parmesan is used to cover tomatoes cooked in two stages, first in the pan, then in the oven. As for a classic tart tatin, the whole thing is then turned upside down.
42,647
4.8/5 for 18 ratings 2 hours 35 min.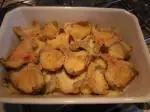 This is a very simple recipe: just potatoes, purple artichokes, a sprinkling of Parmesan and into the oven it goes...
9,120
4.1/5 for 16 ratings 42 min.

Small spears of green asparagus steamed and sliced, served with grated Parmesan in the middle of an omelette.
22,519
3.8/5 for 17 ratings 33 min.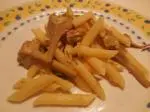 In this recipe, the purple artichokes are braised in white wine, then mixed with the penne and parmesan.
9,569
5/5 for 13 ratings 52 min.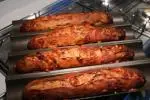 This moist bread is generously flavoured with diced Parmesan, fried onions and mushrooms. In the form of mini-baguetttes (French sticks), it is easy to serve sliced and makes an ideal aperitif snack.
4,613
4/5 for 2 ratings 3 hours 43 min.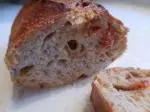 Spring bread is flavoured with little pieces of preserved tomatoes, Parmesan and chive flowers (hence the name, as the flowers only appear for a brief period in spring). Shaped into long loaves or thin sticks, slices of this bread make a delicious aperitif snack.
8,120
4.3/5 for 3 ratings 4 hours 2 min.