List of recipes using "Terrine":
5 recipes

(without meat)

In this colourful terrine, layers of avocado alternate with smoked salmon and diced tomato in balsamic vinegar.
53,305
5/5 for 1 ratings 4 hours 7 min.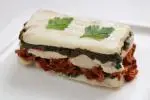 This terrine is made up of alternating layers of fish fillets with spinach and preserved tomatoes. It is cooked gently in the oven, then served in slices (yes, it really is a kind of terrine) with hollandaise sauce, for example.
431
5/5 for 1 ratings 1 hour 52 min.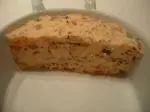 A terrine of two kinds of salmon (cooked and smoked) with butter and lemon.
84,787
4.3/5 for 15 ratings 2 hours 38 min.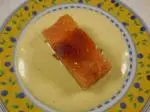 Imagine a sweet terrine, made of layers of apples with sugar, cooked slowly in the oven until caramelized. Serve warm in slices with custard.
12,453
4.1/5 for 19 ratings 3 hours 28 min.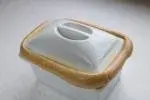 The French have a term for it: "luter", which means to seal around the lid of a cooking dish with dough. The dough forms a crust and hermetically seals in all the steam and flavours while the dish is cooking in the oven. This is a good way to concentrate flavours. The dish is brought to the table...
9,350
3.8/5 for 17 ratings 33 min.