List of recipes using "Meat":
8 recipes

(without meat)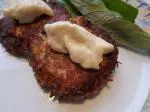 These crab cakes are a mixture of crab meat - of course - with onion, parsley, breadcrumbs, egg and mayonnaise. The cakes are made fairly thick and shallow fried in a pan, but they can also be deep fried.
11,269
4.7/5 for 18 ratings 1 hour 3 min.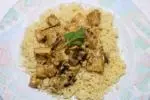 The celeriac in this dish is cooked in two stages: pan-fried first, then braised in cream with mustard. It can be enjoyed as the main feature with rice or cous-cous, for example, or served to accompany meat.
1,223 43 min.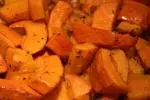 This is a very quick and simple recipe which makes an excellent accompaniment for roast meat, for example. It is also a good Sunday night dish.
3,453 1 hour 5 min.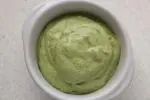 This greeen sauce with tahini and parsley is an excellent accompaniment for lots of vegetables (raw or cooked) and also goes well with poultry.
637 9 min.

The rich "marchand de vin" sauce, made with red wine and shallot, is a classic accompaniment for meats that is traditionally made in the roasting tin or dish. This is a simplified version that can be made while the meat is cooking, even beforehand, so there is no risk of it going cold.
30,693
4.1/5 for 16 ratings 34 min.

This is an ideal sauce to make when you have been cooking meat, as it uses the juices left in the pan, but there's a tip for making it without meat juices.
60,552
4.9/5 for 11 ratings 22 min.

When you cook meat, the cooking heat causes the juices to run back inside, so the outside dries up somewhat. Here is a tip to avoid this.
14,133
4.3/5 for 15 ratings 5 min.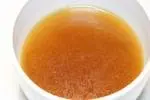 After cooking meat, we are left with the delicious cooking juices, but these can often be rather fatty. Here is one simple and effective way to remove much of the fat.
4,538
5/5 for 1 ratings 3 hours 4 min.