List of recipes using "Oven cooked":
11 recipes

(without meat)

List of recipes using "Oven cooked"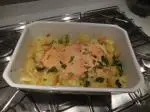 This is a quick recipe for salmon fillet, surrounded by sliced potatoes and baked with lemon juice, olive oil and herbs.
86K
4.6
33 min. March 26
th
2015

Fish cooked in a salt crust is simply baked in the oven, surrounded and completely covered by a layer of coarse salt. This allows the fish to cook gently and it should be eaten as soon as the salt crust is opened. In this version, it is stuffed with lemon and herbs. Using a thermometer is the best...
141K
3.8
1 hour 8 min. January 29
th
2012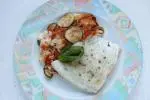 This oven-baked recipe teams layers of rice and vegetables (sesame-flavoured rice, sautéed courgettes, onions and tomatoes) with fillets of fish (pollack here) and thyme laid on top. Everything is then cooked together in the oven.
35K
4.3
1 hour 7 min. September 25
th
2016

A fresh salmon escalope just salt and pepper with small dices of small vegetables.
223K
1
5
1 hour 28 min. June 22
th
2011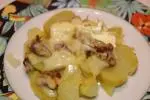 Camembert can be melted in the oven, like this hot box cheese, but here it has the added delight of toasted chopped walnuts, served on a bed of hot potatoes.
35K
3.8
56 min. March 13
th
2016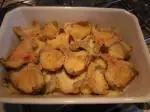 This is a very simple recipe: just potatoes, purple artichokes, a sprinkling of Parmesan and into the oven it goes...
43K
4.1
42 min. November 30
th
2014

This classic French recipe is made with sliced potatoes baked in milk and browned on top.
1.1M
1
4.6
1 hour 47 min. February 21
th
2011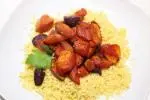 Chunks of carrot (different coloured varieties here), braised in a vegetable stock with herbes de Provence and served on a bed of couscous.
32K
1 hour 14 min. January 27
th
2019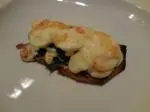 A slice of buttered toast, layers of spinach and sliced hard-boiled egg, topped with bechamel sauce and grated cheese, then browned in the oven.
48K
4.3
33 min. February 11
th
2015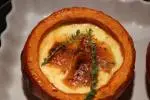 The small squash used here is the Japanese chestnut pumpkin or "potimarron". For this gratin, we scrape out the seeds and fill the centre with a mixture of three sorts of cheese and cream, then bake it in the oven until the pumpkin flesh is soft. Served straight from the oven like this, it is good...
54K
4.1
53 min. January 24
th
2016

Under this pretty name, my personal version of "Les pommes au four" (baked apples).
228K
2
4.2
1 hour 7 min. February 21
th
2011