List of recipes using "Pancake":
8 recipes

(without meat)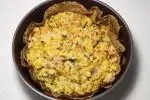 This is a "tart" with a difference: the case is not made with pastry, but with a double layer of lightly buttered Breton galettes (buckwheat pancakes). The filling is made with shallots, sautéed mushrooms, leeks and cream. You might have noticed that this recipe includes the key elements of...
4,373
4.3/5 for 12 ratings 1 hour 13 min.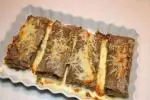 This recipe uses pan-fried mushrooms and shallots in cream as the filling for Breton "galettes": traditional buckwheat pancakes. The stuffed pancakes are then baked gratin-style with cheese and cream.
6,932
4.6/5 for 14 ratings 55 min.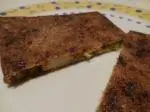 These pancakes are filled with pan-fried scallops and creamed leeks.
11,309
4.3/5 for 20 ratings 13 min.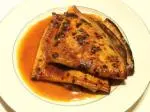 Crêpes Suzette are pancakes filled with orange-flavoured butter (butter and sugar mixed with Grand Marnier), caramelized in a pan and soaked in orange-flavoured syrup. This is an modified version of the recipe invented by Auguste Escoffier.
35,639
4.1/5 for 10 ratings 48 min.

Far is a traditional recipe from Brittany in northwest France. The name comes from the Breton word 'farz' meaning flour. This is the traditional way, with prunes, but you can adapt it according to taste.
66,217 1
5/5 for 1 ratings 1 hour 10 min.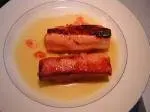 Stewed apples, raisins soaked in whisky, toasted almonds, rolled in a lightly caramelized pancake.
72,798
4.3/5 for 15 ratings 2 hours 16 min.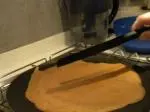 Buckwheat pancakes (galettes de sarasin in French) are typical of Brittany and are often served as a savoury dish. They are made with buckwheat flour (a cereal-like seed which is gluten free).
27,911 2
4.3/5 for 15 ratings 15 min.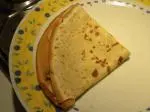 Here is a pancake batter that is a little more sophisticated than the traditional version. The pancakes will be tastier with a softer texture.
27,855
3.8/5 for 13 ratings 13 min.