List of recipes using "Red wine":
2 recipes

(without meat)

Pears cooked until soft in a red wine and blackcurrant syrup, served with the reduced syrup and custard sauce (crème anglaise).
82,330
4.1/5 for 16 ratings 2 hours 35 min.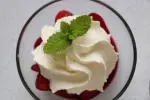 Serving strawberries in red wine is a classic French dessert. Here is a more sophisticated version, with the red wine reduced to a light syrup with notes of thyme and lemon.
2,867 1 hour 23 min.