List of recipes using "Kids":
3 recipes

(without meat)

It's "the simpliest cake in the world", called four quarters, because it's made with 1/4 eggs, 1/4 sugar, 1/4 flour and 1/4 butter.
72,798
3.7/5 for 18 ratings 1 hour 15 min.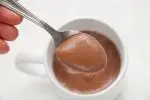 This delicious, custardy chocolate treat is made in minutes. A treat for kids (and big kids) to enjoy at teatime, or any other time.
759 10 min.

These cookies made with lime and almonds are a sure-fire hit with children. They enjoy the amusing shape, of course, but also the delicious flavour.
27,265
4.1/5 for 16 ratings 3 hours 35 min.