List of recipes using "Mexico":
3 recipes

(without meat)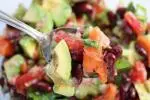 This Mexican-inspired salad combines red kidney beans with avocado, chopped onions and tomatoes. It is dressed with olive oil, lime and a touch of Tabasco heat.
1,491
5/5 for 1 ratings 28 min.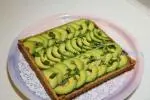 This unusual tart features two star ingredients of South American cuisine: red kidney beans and avocado. The shortcrust pastry case is filled with a red bean and onion purée, then topped with sliced avocado dressed with lime and garnished with fresh coriander.
1,131 1 hour 17 min.

Ceviche is typical of South American cuisine, made with avocados, tomatoes and fish fillet cured in lime juice. This is a personal version of Mexican-style ceviche.
101,885 1
5/5 for 1 ratings 3 hours 9 min.