List of recipes using "Mussels":
5 recipes

(without meat)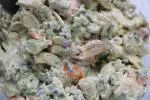 A bold salad idea that brings together 3 ingredients which rarely end up on the same plate: cucumber, avocado and mussels, in a rémoulade dressing.
12K
21 min. August 9
th
2020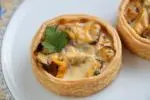 A blind-baked puff pastry case, filled with shelled mussels in a velvety sauce made with beer and Maroilles cheese.
13K
1 hour 19 min. October 7
th
2020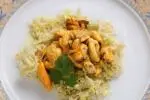 The mussels are cooked "à la marinière", then shelled and served in a creamy curry sauce with shredded, barely-tender cabbage.
20K
1 hour 24 min. December 30
th
2019

This is the most classic way of preparing mussels, simple and delicious.
185K
5
1 hour 4 min. September 4
th
2011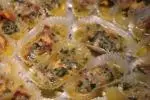 In this recipe, the mussels are cooked briefly first in salted water, just until they open. They are then shelled and popped in the oven for a few minutes with a knob of beurre d'escargot (butter for snails).
19K
21 min. December 2
nd
2018