List of recipes using "Scrambled egg":
3 recipes

(alcohol-free)

These look like perfectly normal boiled eggs, but when the shell is cracked open - surprise! They contain a mixture of scrambled egg, cured ham, fried prawns and chives.
48,455
5/5 for 13 ratings 51 min.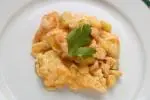 For this dish, the langoustines and asparagus tips are sautéed bafore being mixed with the beaten eggs and finished like scrambled eggs.
1,941 50 min.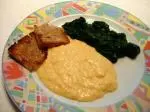 Fresh spinach, butter-fried bread and scrambled eggs: simply delicious.
108,192
3.8/5 for 17 ratings 2 hours