List of recipes using "Spaghetti":
4 recipes

(alcohol-free)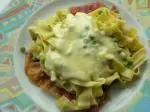 Pasta served like in NYC: tagliatelle or spaghetti with lightly fried ham, peas and a nutmeg-flavoured cream sauce.
20,990
4.3/5 for 15 ratings 46 min.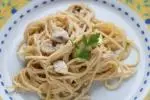 Your choice of pasta (spaghetti, penne or whatever) in a creamy sauce with mushrooms and shallots.
7,273
4.3/5 for 15 ratings 37 min.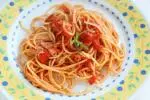 Here's a quick and simple solution when faced with the age-old question late on Sunday afternoon: "What are we going to eat tonight?".
4,493
4.8/5 for 10 ratings 28 min.

Classic pasta: tagliatelle mixed with courgette "spaghetti", and like for carbonara, with a sauce of egg yolks, cream, lemon juice and fried ham.
81,981
4.6/5 for 14 ratings 53 min.