List of recipes using "Eclair":
2 recipes

(alcohol-free)

This might appear to be a straightforward recipe: choux pastry, chocolate confectioner's custard and fondant icing, but in practice it is quite technically tricky and all three stages need care to produce a perfect result.But don't let that discourage you; there are demonstration videos and I will...
64,030 3
4.5/5 for 2 ratings 3 hours 52 min.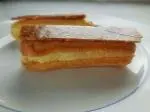 A Valay-Brest is a mini eclair, filled with apple-flavoured confectioner's custard and topped with a rectangle of walnut nougatine.
13,316
4.1/5 for 19 ratings 1 hour 28 min.